You are currently browsing the archive for the For SCIENCE! category.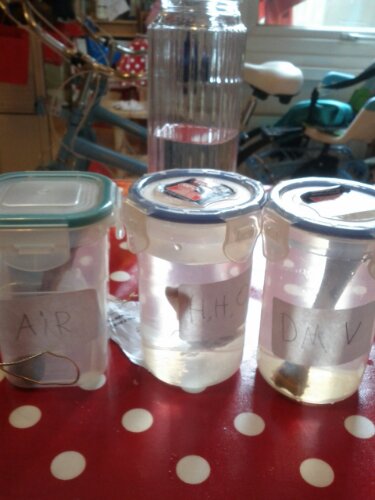 L(8) did a science experiment. Actually, it's ongoing. She's testing the effect vinegar, water and air have on chicken bones. The answer is "not much after 18 hours." We've been getting along much better in general, and I'm learning how to tie her physical and emotional and mental stuff together to create a new wholeness for her, an integrated self-experience, or something. That seemed fine until I wrote it down and now seems really woo-woo and poncy. She has also recently developed an interest in cooking, which is great.
E(almost 6) has been cooking up a storm and is very competent at separating eggs, peeling and chopping, pouring, and so on. Not so hot on measuring. She relies on L to use the microwave for her, because it's very high up. She's also ploughing on with learning to read, and writing a fair bit.
A(very nearly 2) is walking, talking, climbing, dressing herself (can't manage socks yet), using the toilet or potty, counting to two and sometimes three, and learning more about names and how they work – she can now answer "what's your name?" with her own, actual name.
I've been painting and selling paintings at another blog for a while and then I opened an Etsy Shop and it's very exciting, for me and for the children – they find the process of painting, selling, using the money to buy more canvas, etc, novel and exciting. E in particular is very vocal about it.
We got our potato planting kit from The Potato Council today. It came in a little brown box which contained two bags of potatoes, an envelope of instructions, and a couple of grow bags.
Last year we ate well on them. Emer particularly loved chitting and planting. This year I expect we'll do better with earthing up and so on. I'm really looking forward to it. For bonus points, the sunniest window is in the girls' room this year, because we switched around, so they can check them a LOT. I might rig a high shelf halfway across, or something.
Not sure what else we'll grow this year. Tomatoes, courgettes, potatoes, peas and beans? We don't have a lot of space, and what we have is rather full of social things like a table and chairs, and toys.
Last night was the end of a very hot day – 29C or so, the first of October! And it was a cloudless night, so at bedtime, instead of sending everyone to bed, we brought them out for a walk around the block and into the (dark, unlit) playground. I actually think we'd have seen more stars from our back garden but it wouldn't have been as exciting.
We saw patterns, some of which we could name and some we couldn't; the children saw their own patterns, and then Linnea lay on the ground and just looked, until she couldn't any more, and gave up. There's something overwhelming about a sky full of stars, how far away they are and how many there are and how clearly we seem to be able to see them – when actually what we see isn't anything like what's really there, the freezing expanses and the burning masses and the warm summer wind settling on our bare skin while we're down on the dewy grass. The juxtaposition is too much.
So today we bought a diary and she's writing one-word entries only about the happy things in each day.
We've had a good time lately. We did lots with fractions – L has been adding fractions in her head for a while without being clear on how she did it, and we did it on paper so she could see what was going on. We finally made it back to the library and got some new books, and somewhere there's a diagram of clementine segment skins under a microscope. Pocketmoney maths is big but complicated.
And we had haircuts, to cover up the look of the most recent self-cutting attempts. I don't much mind them cutting their own hair, any more; my biggest objection was when one of them cut the other's hair, but since I cut my own hair, and theirs, I don't care much if they do it too.
But it's nice that I didn't have to, this time. And they all enjoyed the unaccustomed use of a hairdryer.
We did an oil-and-water experiment today. The children wanted to do something a bit structured, so we got the balance, found a couple of identical cups and weighed them, and poured equal volumes of oil and water into each one. Then we weighed them. Then we poured them together and mixed them up. And put a lid on and turned it over. And dyed it with food colouring. And got very excited about drawing pictures about it. And…
It was all such a success that we did the thing I read on Patch of Puddles about bowls of hot, body temperature, and cold water. They are still doing that, as far as I know; I have fled the splash zone myself.