I've been using the TV more and more lately; it's part of managing my lack of wellness. Also I'm trying to balance the introduction of the children to not-for-children telly with the general wellbeing of the children, who are more sensitive than many I know to the gross injustices of the world. No they actually are.
The ten-year-old (she said casually, as though she'd had a ten-year-old for AGES) has watched a little of the BBC's "The Story of Women in Art" and it's only moderately distressing (once upon a time, there were loads of women doing art, and they were marginalised and excluded and written out of history and they still are, is the basic story, but the bit where they show the actual art is amazing). She's watching it in the early parts of the day and processing it in the afternoons, which involves a lot of thinking and a bit of growling.
The seven-year-old was given a carding comb and a couple of drop spindles the other day, and she's gradually carding some wool she found on fences in Wales preparatory to spinning it. We did a bit by rolling it between our hands last year, but this is the real deal.
And the three-year-old has been making necklaces. It turns out she can get the kitchen supply of drinking straws, and cut them into bead lengths, and thread them on some string from the ball her sister bought with her own money. Which is very clever and involves a lot of boundary-bending. Hmm.
We had a family holiday, the five of us, for two weeks, and although the eldest child had tonsillitis and I had more of my same lack of wellness, it was lovely and enriching and rewarding.
I feel posts lurking in the back of my drafts folder, and if I'm lucky I'll be able to get them out into the world. You never know.
There's one about the police.
On Tuesday last week we all snuggled up on the sofa and in armchairs and watched The Great British Sewing Bee. The children and I had watched the first episode on iPlayer before, and the nine-year-old, in particular, was fascinated by the making of the sleeveless cotton top, wool skirt, and silk nighties. The second episode made her very nearly cry, though.
They made a skirt,  things from old shirts, and men's pyjamas. And when they were discussing the pyjamas, they said "comfort" and "comfortable" several times. She had noticed – as I had not – that they didn't say that even once when discussing the women's nighties, the previous week.
I've just watched that section on iPlayer again, and she's right, they didn't. Not once.
I thought it was a harmless show about sewing. I was impressed that there were men sewing, that there was no male co-presenter to "balance" the woman, that the historians they interviewed were mainly women, all that. She spotted the fairly basic difference between dressing for oneself and for someone else.
Comfortable nightwear. Wow.
It's a weird cross between winter hibernation and mad education these days. Lego, the old laminated maths sheets from my eldest's toddler years, almost endless telly, filling in account transfer forms and taking money out of the bank to buy sausages, and almost endless telly — iPlayer and Netflix and CBeebies and BakeOff and Coast and all sorts.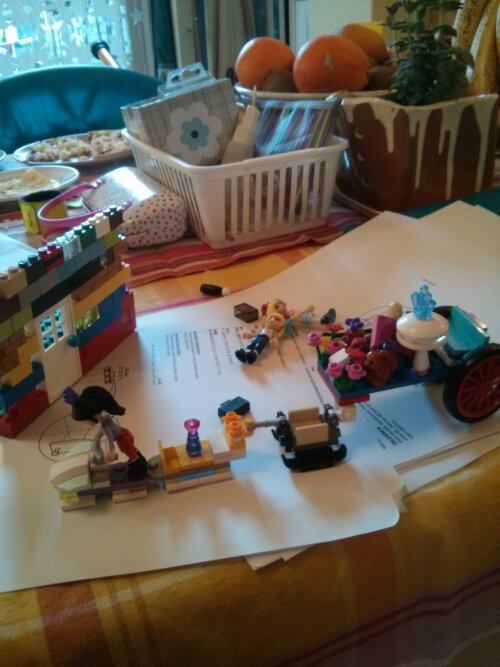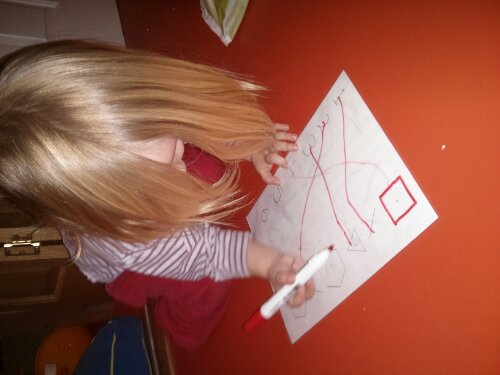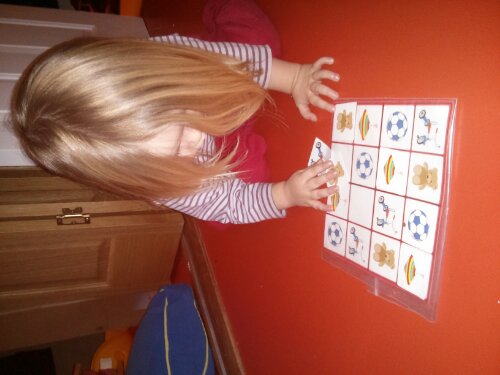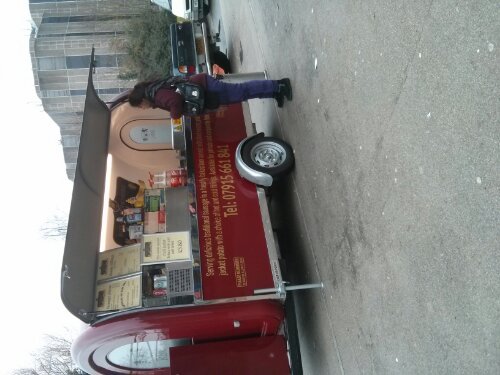 I have no idea why those photos refuse to turn over.
This photo is from mid-September 2012, the 18th in fact. Crikey. But sewing hasn't become any less alluring.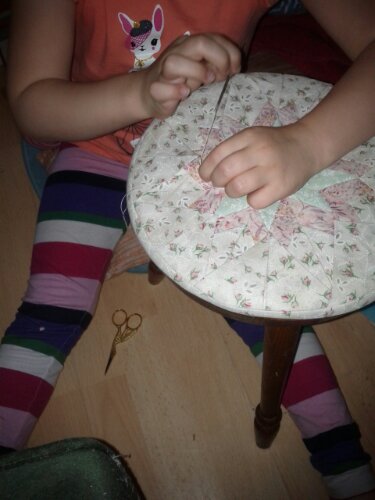 In fact, someone (who is 7) got a sewing machine for Christmas and has been stitching up a storm. Little tote bags for all her friends, bits of cross-stitch, some mending (lovely green patches on a white linen shirt from the scrap basket, now hung in Daddy's wardrobe again. He'd better wear it!) and even a bit of knitting.
It's like a Bagthorpian String.
One. One two. One. One. One two. One two. Ahem.
It's time for my annual post, I guess. We've come out of a long hard haul, lifewise and are starting up again. Christmas brought chemistry sets, so we're baking again, and there were cheap cartridge pens so the older two are practising their handwriting. My eldest signed up for Mathletics. The youngest counts to ten and a bit. I've almost totally stopped painting, but they've all just started up again. Train tracks are big. Telly is big. Stars and planets are big. Reading is the biggest of all, for the eldest, and medium-large for the others, though they're not independent readers yet really.
I expect this year to go rather better than last, what with no chronic illness, no building works, and plenty of space and time.
Before we left I ordered new panniers for my bike. I adore them.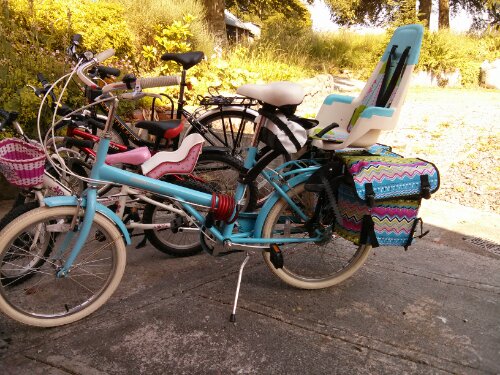 I said that Astrid and Lily the Knight and Lily's Dragon were all swimming in the moat. Astrid said,
The castle falled into the river. In this story I need a rope. Lily jumped into the river and tied the other end of the rope onto the bit of the castle and then she climbed out and I pulled really hard and it was on the ground!
She'll be three soon.