I said that Astrid and Lily the Knight and Lily's Dragon were all swimming in the moat. Astrid said,
The castle falled into the river. In this story I need a rope. Lily jumped into the river and tied the other end of the rope onto the bit of the castle and then she climbed out and I pulled really hard and it was on the ground!
She'll be three soon.
I was going to write a lot about all the academic and schooly things we did today – maths, writing, reading, very educational plant observations, handwriting, little bits of French and Swedish, the mechanics of rowing, Reading Eggs, and the first use of Writing with Ease evar, but… after we ate dinner in the garden, this happened: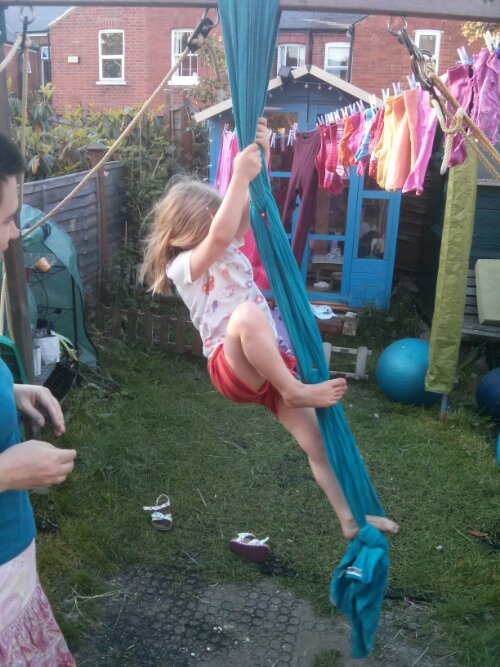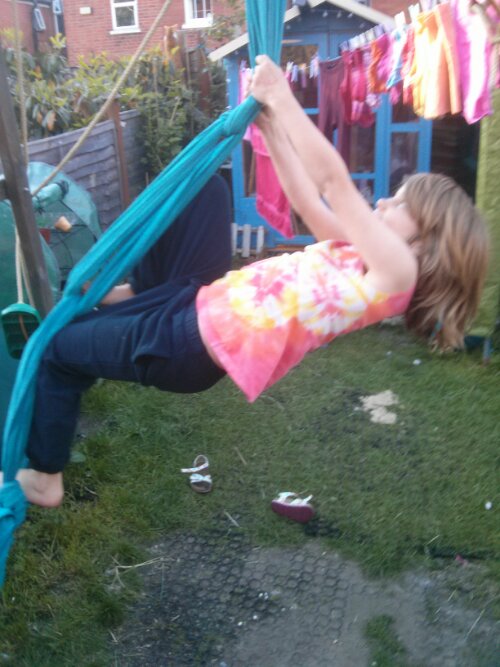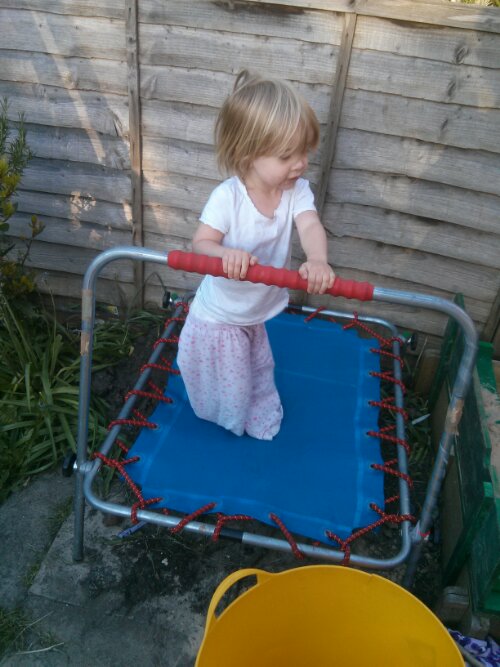 Sunset isn't until after 9pm now. I love summer.
That was the first novel my father ever read, according to family apocrypha. So the phrase sticks in my mind. Today I noticed our apple tree is Doing the Thing – at first I didn't know what to look for, because although I grew up with apple trees I seem never to have looked closely at them in spring. But I saw something that looked like rosehips today and sure enough, it's baby apples, only waiting to grow into delicious nutritious (or possibly small, sharp and wormy) eating apples later in the year.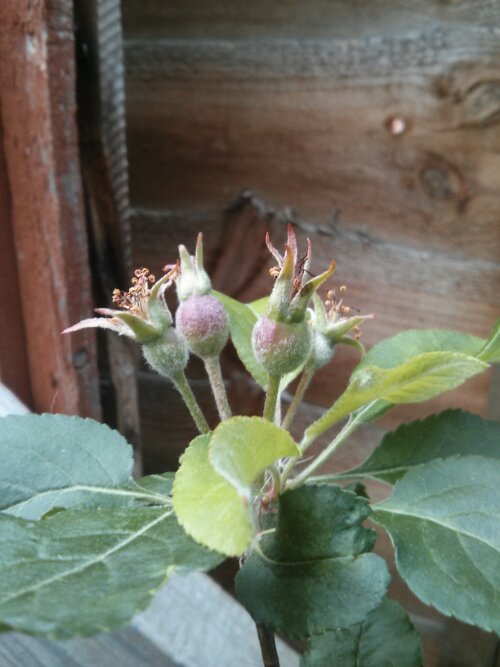 The children are uninterested and delighted, respectively.
The potatoes haven't flowered yet, so today's fishing trip into the bags of compost was fruitless. No pun intended.
We've been in a weird place lately. Not literally, in that we've been at home, but we took the toddler for a tonsillectomy on Thursday and have spent the last five days at home without visitors to minimise her risk of infection. Today was the first day I did anything overtly educational because I've been mainly providing the calories and fluid for the toddler, in a preprocessed kind of way, and lamenting that no-one told me an adenoidectomy would have a major, dramatic effect on breastfeeding.
However.
Last night I printed off a bunch of Lear and Milne poems and some MEP Y6 worksheets, and today I stuck the poems to the dining room door and read them to the kids, and they had a whack at illustrating them. The 9yo produced an interesting and quite faithful to the poem Pobble, and the 6yo did a Jumblies drawing with the focus on the Sieve.
Then I got out my maths sheets and I did some (working out what the questions mean is interesting. It was mainly about place value, I think, unless I misunderstood completely) and the older two did some of their own, with coloured pens. I find it very interesting how they can do far more complicated things mathematically than they can do when presented with a worksheet, but they are beginning to agree with me that learning to speak "worksheet and textbook language" might be important. And I need to learn alongside them, because it's not a language in which I have ever been fluent. E (age 6) is, like me, inclined to nitpick the ambiguities even when she understands the actual intent.
And finally, we did some handwriting. This is because everyone finds Rob's handwriting almost impossible to read, and they don't want to end up like that. BUT it turns out that E doesn't want to write lower case EVER except the letters e and i. And L doesn't want to practice, just to be able to do it, magically.
So we stopped and ate some of the bread I'd made instead.
I think they also watched quite a bit of telly. We have a trampoline in front of the telly now. Oh, and they did the basic pocketmoney sums of working out how much money they had and how many sweets they could buy with it. And some complicated games we didn't see but overheard chunks of, which wasn't as alarming today as it is sometimes.
The last thing I heard them doing was being fax machines.
I think the kids spent the equivalent of a full school day watching telly today. The six-year-old cried out at bedtime that she hadn't had time to do ANY playing. But here they are cooperatively excavating a dinosaur; one to dig and one to brush and take notes.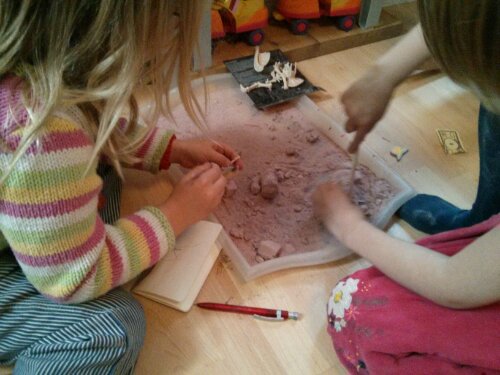 They can't tidy up the dust yet because it helps it look like a real archaeologists' site. Maybe I can get them to damp it down, since archaeologists are usually working in mud?
Everyone and their gran has been blogging about ASD and ADHD lately.
So I'll join in.
My eldest child was unusually verbally capable. She was "preternaturally self-possessed." Her social skills, from age about 15 months to 4 years, were shockingly good. She was obviously extremely bright. She went on sleepovers in other people's houses from age three without the slightest qualm or loss of confidence. She never had a special toy or blankie or soother or any other affection object. She absorbed, analysed and retained information. She had a long attention span and would focus on an activity for over an hour at a time, as a toddler — several times a day. She molded herself to the needs of her friends and extended family with careful negotiation and a tamping down of her own preferences to achieve social acceptability, especially where she wasn't confident of unconditional acceptance.
And it all spilled out in other ways. I coped very badly with it and her other parent almost didn't cope at all — not coped badly, but wasn't part of the situation, leaving the familial adaptations to me. After years of high-stress, complex family life, with me assuming the problems were all down to my own mental and emotional inadequacies, we realised that treating her as a child with ADHD and ASD made everyone much, much happier.
It still does.
She doesn't have a formal diagnosis, just my maternal flailing about through the parenting books and talking to a GP or four. Her baby sister has huge tonsils causing sleep apnea and we're having them removed in two weeks; the tonsillectomy literature says that it can be a cause of ADHD-type behaviours due to chronic sleep apnea affecting ability to govern oneself when awake. So I'm going to look into that too, because yeah, the huge tonsils haven't stopped my eldest breathing but they might be inhibiting her oxygen intake without actually STOPPING it.
I'm not sure whether we'll ever pursue neurological diagnoses. But the behavioural challenges we were living with are solved using techniques used by families coping with autism. It's just a different way of being, and adapting to it was relatively easy once we figured out what to change.
Living without adapting to it was bloody awful. You can't hammer a round child into a square hole, even with a really big hammer.